Billy Joel, Set Backs and Second Wind
As is fairly common these days, when you buy a new vehicle you get a free trial subscription to Sirius Radio. The entertainment we have access to is astounding. You know you have been a successful entertainer when there is an entire station dedicated to you and your music. It is like being the answer to a crossword puzzle clue, only on a much larger scale.
Billy Joel is one such artist and he just happens to be one of my favourites. When I was first searching Sirius, I stopped on his station. The song that was playing was called You're Only Human (Second Wind). The following lyrics struck me as particularly relevant to some of my own life events in family, sports or business:
"You're only human/ You're allowed to make your share of mistakes/
You better believe there will be times in your life/ When you'll be feeling like a stumbling fool/ So take it from me you'll learn more from your accidents/ Than anything that you could ever learn at school/ Don't forget your second wind/Sooner or later you'll get your second wind"
I have had many setbacks in my life and I was always able to get a "second wind." I now approach all setbacks as a learning opportunity, an experience that transforms me (the second wind) and allows me to move forward. One of the things I hope I imbue in my children and business colleagues is it is better to be in a learning culture than a blaming culture. The learning culture allows you to move forward with new energy and purpose to "get your second wind".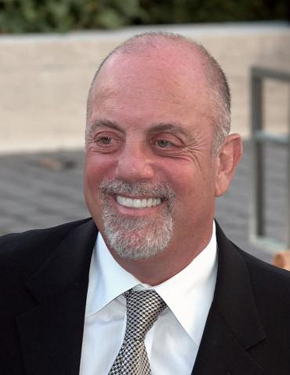 P.S. I chose this picture of Mr. Joel because his hairline resembles mine and he's not even an accountant!
Back To News